It's been a few days, so I think I'm finally ready to say something about the death of my favorite living actor, Bill Paxton. I'd always been a fan of his from stuff like Weird Science and Aliens which we saw over and over again when it came out–I was a junior in high school. Plus I remembered him from The Lords of Discipline. I thought he was so versatile and funny and amazing. He was credited as "Wild" Bill Paxton, which I thought was super awesome.

I didn't realize he was the guy from the Fish Heads video until much later. But I had always loved that vid. He directed it to, which seems insane until you remember that he started his Hollywood career in the art department on Roger Corman movies. I know, right?
I won't do a whole thing about his career, because most of you know all about it. You know about the amazing sci-fi horror trifecta. You know at least a dozen of his movies and at least that many of his famous lines. Maybe you didn't know that he played a Nazi in a Pat Benetar video (that also features Judge Reinhold as a good guy).
Shadows Of The Night – Pat Benatar by KamdenMason
I have to mention Frailty though, because finding out Bill could make a horror movie that blew my mind–I'm sure you can imagine how that made me feel. It was like his artistic spirit came into my TV (I couldn't afford to see it in the theatre) and hugged me. My favorite thing in any horror movie is when I honestly don't see it coming…

…(and it makes sense), and with Frailty, I didn't. So bold, brave, intense for a first time feature director. Paxton said that he always wanted to direct a classic. As a horror fan, I have to say that he did.

When I woke up Sunday morning and checked my communique, I got seven texts and two Emails letting me know that Bill Paxton had died. Still, I spent a few seconds frantically wondering who could have organized such an unfunny prank on me. He has a new show–it JUST STARTED. He looked totally healthy in it. Bill Paxton smoked cigs for a long time, and he probably drank some. But he wasn't some kind of self-abuser. I couldn't believe it. I burst into tears so hard that I scared H, who thought a friend or a family member must have died. I couldn't even speak. I just handed him my iPod touch and he looked at it, then at me, and said "Oh no…honey, I'm sorry."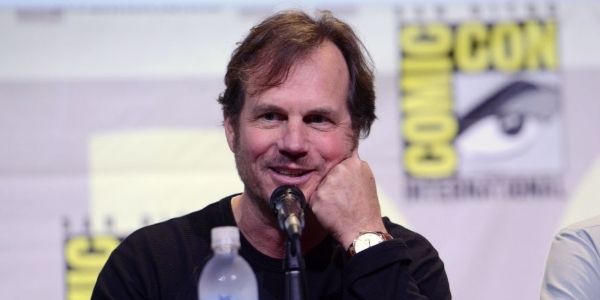 People called him an "everyman," which I suppose is true to a point. No matter what kind of character he played, you kind of felt like you could see a little of yourself in him. He helped us identify with his characters, even if they were totally shitty. I mean, what kind of idiot takes on a Predator with a handgun, I ask you? Paxton wasn't just a horror guy, but he obviously was a fan. He wasn't just a smartass, or a jokester, or a family movie guy–he was all of that and more. He was tons of things most of us will never know about. And everybody loved him. Everybody who knew him.
Bill Paxton took shit seriously–the art, the work in general, his family, his fans. He was a good sport and an awesome person. Generous with fellow actors and good to his crew. Nobody spoke ill of him. Even when he found out his ancestors owned slaves, he handled it with grace and without bullshit. I adored him. I really did. Like, it's probably a good thing I didn't rescue him if he crashed his plymouth in a snowstorm. Because I was his Number One Fan. I also should have been one of his wives on Big Love, because seriously.


Because I have a rich inner fantasy life, I always imagined that someday I'd meet Bill Paxton. I'd tell him how much I liked Frailty, and he would be impressed with my passion for, and knowledge of film. I imagine most of us want to think our heroes would like us, and this was especially true in this case. Plus, he was so damn handsome.
Goodbye, Sir. I'm sorry I'll never meet you.
I thank you for a lifetime of work that will stay with us forever.
Tags:
movies
,
sad
,
tv