As any regular reader knows, we're not wealthy people. That doesn't stop me though, from engaging in an occasional indulgence. There's a company called Florence Scovel that advertises like crazy on Facebook. I confess, I find many of their shiny baubles appealing. Turns out, there were some things I didn't know about them.
For one thing, they totally co-opted Project Semicolon by selling pieces featuring the logo and semicolon–but without giving credit, or a share, to the late founder Amy Bleuel (who passed a few weeks ago). I didn't discover that until I researched them their following the shady way they ripped me off.
A little over a month ago, I ordered a cheap ring that looked sort of like my engagement ring. No big whoop, right? Just a little splurge. A few days after placing the order, I got a notice that my order had shipped. Awesome, right?
A few days later, the package had not moved. I waited 2 weeks, receiving nothing. Then this: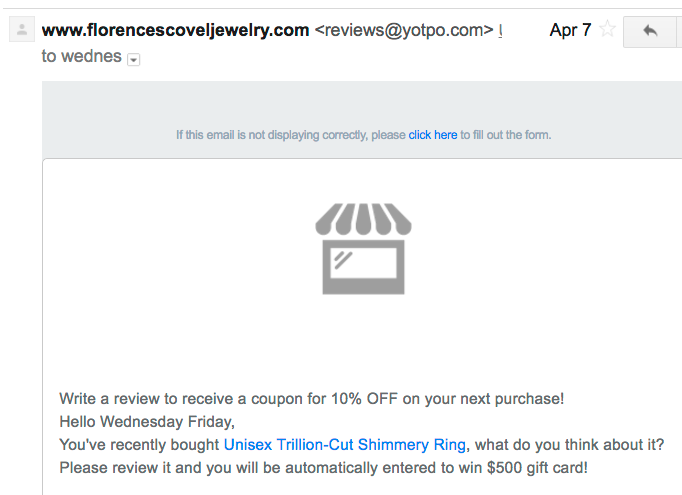 That indicated to me that the package should have arrived by then. But it hadn't. Not really feeling that ring anymore, I asked for a refund.

Sometimes I do get the buyer's remorse over splurges. Anywhoo…this is how they answered:

This means that even though Florence Scovel sent me a SHIPPING CONFIRMATION (you know, the thing that confirms shipment of your item), they hadn't ever shipped it. It was all a lie. Well, charging my card was real, but the item? Not so much. Yet, they were cool asking me to review an item they know damn well they never sent. And before anyone asks– I spent 5 years working for a mail order company. So I'm not blind to the inner workings of such things.
BTW, the "end of next week" they refer to is the end of last week. No item, no ship confirmation, no nothing except another request for me to review the item I never got.
Irate, I responded that since they never sent me the item, they should have no problem giving me my money back. Again, it's not as if I spent thousands of dollars. With shipping, it was just over $20. It's the principle. And offering me 20% off my next order to make up for some shit that never arrived? Seriously? I began to wonder if Florence Scovel was pranking me. But they're not that funny.
In the end, they've told me that they'll refund me so long as I sent back the item I never received–the one they never actually shipped. Today is April 25th, and I never got a shipping confirmation (not that I'd have believed it) for the supposed back-order shipment. So they're just keeping my money and not giving a rat's ass.
So…all of you in Facebook land who sees constant ads for the pretties and shinies at Florence Scovel? Don't do it. You'd be better off throwing that money into the sewer. At least then you wouldn't have to wait a month to be sure you'd been ripped off.

comments